Sample Parole Document 2: Paper I-94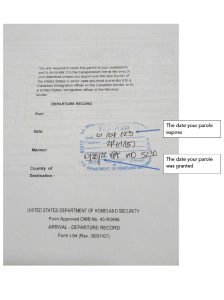 This paper document is a version of a Form I-94, Arrival/Departure Record. This I-94 includes a parole stamp, showing that the person received parole when they entered the United States. Some people who received this document also received a Notice to Report. Visit the sample documents page to see other types of parole documents, including an online version.
Sometimes, the U.S. government grants a person parole when they enter the United States. Parole is a type of discretionary permission to enter the United States. It is only given to some people in certain situations. It is not necessary to have parole in order to seek asylum. Read more about the process of applying for asylum in the United States. Read about applying for a work permit based on parole.
If you are from Cuba and you received this document after entering the United States, or you received a different document that says "212(d)(5)" on it you may wish to speak with an attorney about whether you qualify for the Cuban Adjustment Act. Find legal assistance.
This information is not intended to be legal advice.