Sample Request For Evidence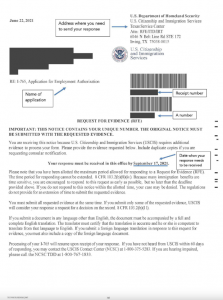 A Request for Evidence is a notice from United States Citizenship and Immigration Services (USCIS), saying that they need more evidence from you in order to process your application.
If you have multiple applications pending with USCIS, the notice states which application they are writing about. For example, this particular notice is regarding an application for employment authorization.
The notice explains what kind of evidence you need to submit. Sometimes USCIS asks for just one more document, but they can also ask for multiple documents. Please make sure to submit all of the requested documents at the same time. If you are not able to get a particular document that USCIS requested, you can include a sworn statement explaining your efforts to get the document and why it is not available.
The notice also shows the date by which you must submit a response. If USCIS does not receive your response by the deadline, your application may be denied! You should plan to send your response as soon as you can, but at least a week before the deadline, if possible.
You should place a copy of the notice on top of your response. The notice tells you the address where you must submit your response by mail.
Find legal assistance here if you need help responding to a notice like this.
Note: This information is for asylum seekers and does not substitute for legal advice from a lawyer.